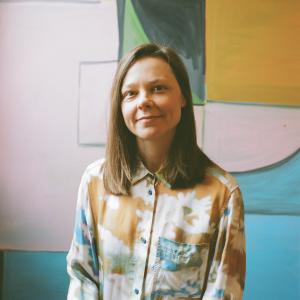 Cristine Yunyk
Artist member since 2018
Toronto, Ontario
Cristine Yunyk is a painter and recent graduate of OCAD University (2018). Developed intuitively, Cristine's work is informed by the history of abstract painting and explores paintings as objects and performers through improvised installations. Colour, humour, and digital references are recurring elements in her boisterous and sensitive works. Cristine is a founding member of the painting collective Painters Make Better Lovers and exhibited in Art Toronto 2018 with OCAD University.
---
What kind of artwork do you have in your home?
I like to collect my friends' work, mostly painting because I hate having to frame things.
Jays vs. Raptors
Jays. My partner insists.
What do you listen to when you work?
Podcasts, mostly.
Your favourite spot in Toronto right now
The Imperial
Only thing you need when you leave the house
headphones
Best season of the year in Toronto
Spring
Upcoming Exhibitions
2019-02-21
Toronto
Artist Project
Select Past Exhibitions
2018

Painters Make Better Lovers
Accolades
2017
Toronto Outdoor Art Exhibit
Emerging Artist by Emerging Curator Award
Education
2018
OCAD U
Drawing and Painting
SHARE THIS ARTIST